The Dalai Lama Teaches
I am watching on Facebook and reading on the Dalai Lama's site. I am learning that anger is poison. As I try to frame my thoughts on how to express my thoughts on the difficulties in life like racism, for example, I am trying to remember that negativity coming from anger, fails to truly help the causes I care about. Finding ways to express compassion and love is truly a goal.
An excerpt:
Today is the second of these teachings," he began. "We don't need to use reason to prove that we want to be happy, not to experience suffering. The root of suffering is our self-cherishing attitude and our misconception of the true existence of people and things. This is reflected in the verse you say at the end of your recitation of the 'Heart Sutra'.
May we dispel the three poisons (anger, attachment and ignorance),
May the light of wisdom shine forth.
May we overcome all obstacles
And enter into the practices of a bodhisattva.
"These poisons or mental afflictions are rooted in ignorance, which will not be eliminated by saying prayers or reciting mantras, but by meditating on selflessness, that is, developing wisdom. The final line refers to cultivating bodhichitta and engaging in the practices of bodhisattvas.
"The reason we're listening to this discourse today is so our wisdom may shine forth. However, there is a saying that if, after diligent study, you have not been able to integrate what you learned within you, it won't have served the purpose. Trulshik Rinpoché, who came to Lhasa specially to receive teachings on the 'Stages of the Path', used to tease me about the great knowledge of Geshés that bore no fruit.
"Jé Tsongkhapa says in his 'Destiny Fulfilled',
In the beginning, I sought much learning.
In the middle, all teachings dawned on me as spiritual instructions.
In the end, I practised night and day.
I dedicated all this virtue for the dharma to flourish.
Thinking this over now, how well my destiny was fulfilled!
Thank you very much, Noble Lord Wisdom Treasure!
"We should follow in his footsteps. As the 'Ornament for Clear Realization' states, Shravakas and Pratyekabuddhas are led to their goal of liberation through understanding the basis. Bodhisattvas are able to fulfil their goal to help others through knowledge of the path. Buddhas are able to give a variety of teachings according to the disposition of the disciples. The purpose of the three vehicles (the Shravaka, Pratyekabuddha and Bodhisattva yanas) is to overcome our destructive emotions and gain control of our minds. To dispel the darkness of ignorance within us, we must study and practise. As Jé Rinpoché said, he practised night and day.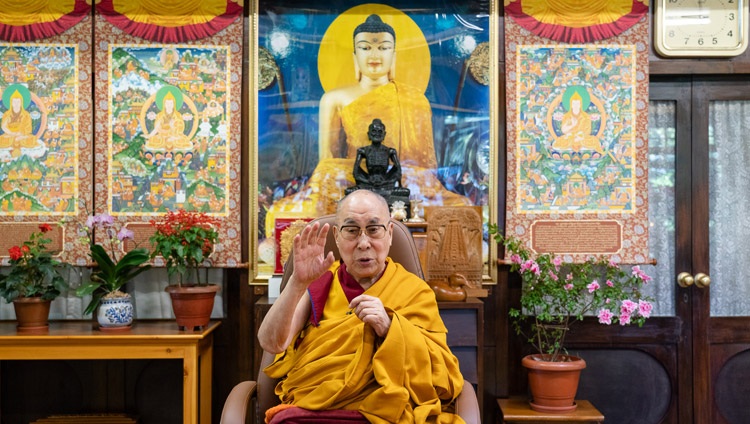 "I advise Tibetans to become 21st century Buddhists and I advise you to do the same, which means developing a sound understanding of the teachings. You need to use your intelligence to discern right from wrong and examine how spiritual practice can be of benefit today.